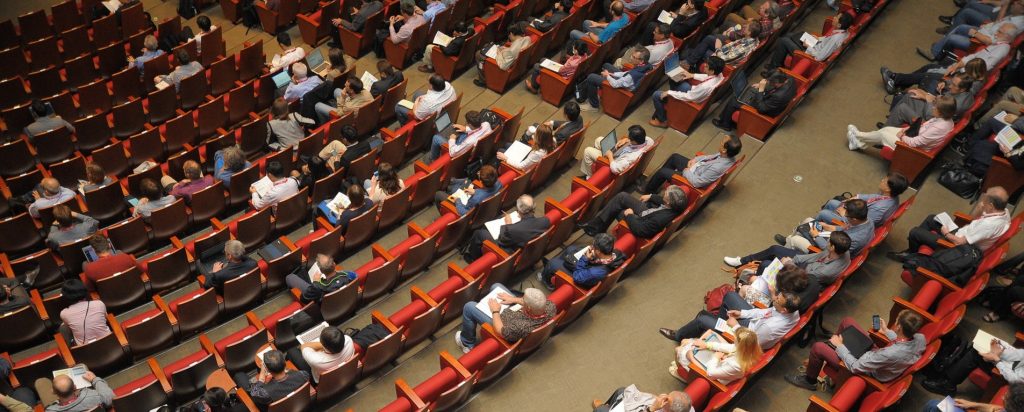 Missed one of our presentations? We have got you covered, you can download them here.
February 2023 at the European Conference on Results from Road Transport Research in Horizon 2020 projects (RTR Conference 2023) Angelo Martino from TRT Trasporti e Territorio delivered a presentation on Holistic Approach for Providing Spatial & Transport Planning Tools and Evidence to Metropolitan and Regional Authorities to Lead a Sustainable Transition to a New Mobility Era.
January 2023 at the TRB conference in Washington DC (USA), 2 poster presentations took place: one by Dimitrios Pappelis from UCL Maas Lab Modelling the Dynamics of Within-day Travel Behaviour and another by Michiel de Bok from Significance Impact Assessment Of Freight Transport Decarbonization Using The HARMONY Tactical Freight Simulator
December 2022 at IATBR 2022 Conference in Santiago, Chile,  Dimitrios Pappelis from UCL Maas Lab presented a paper Dynamic Travel Behaviour: Findings of a Stated Adaptation Experiment and Modelling Framework
November 2022 at the POLIS Conference in Brussels, the Harmony 3rd Cross-Metropolitan Workshop took place and was moderated by Vicent Pastor from Enide Solutions
November 2022 at the TRA 2022 conference: 1) Vicent Pastor presented The SUMPs Topic Guide (TG) at the AGORA stage, a Project overview with an emphasis on stakeholder acceptance as part of the Special Interest Session, a panel discussion (liaison activity) under the topic

A snapshot to the 

traffic management 

of the future

which was

moderated by Project Officer Thiago Tavares; 


2) Larissa Eggers from Significance presented 2 posters: Forecasting parcel deliveries in an urban freight simulator for the province of Zuid-Holland and An empirical demand model for e-commerce; 3) Konstantinos Kamargiannis from UCL and Moby X presented the poster Advancing travel demand surveys using a new generation smartphone-based platform: Applications and users' experience.
October 2022 at CCS 2022 – Conference on Complex Systems: Fulvio Lopane from UCL CASA presented The HARMONY Strategic Simulator: urban and transport modelling to inform policy and decision making. 
September 2022: Angelo Martino from TRT presented, as part of the HARMONY project, the results of the passenger mobility survey conducted in February 2022 in Turin through the MobyApp smartphone application at one of the European Mobility Week Events organised in Turin by UrbanLab and the Turin Municipality.
September 2022: HARMONY´s results of a survey conducted in Turin were presented in ETC2022. The presentation of the paper Smartphone-based Travel survey in Turin: a new data-driven approach to assess urban mobility patterns was led by Francesco Chirico from TRT.
September 2022: Vesna Boskovic Vekic, Dissemination and communication Manger at Enide gave 1 min pitch Harmony overview at Urban MObility Days in Brno.
May-June 2022: HARMONY took part in the Special Interest Session at the ITS Europe Congress in Toulouse on 30 May-1 June, which covered the topic of challenges faced by European and international transport. The coordinator Prof. Maria Kamargianni from UCL MaasLab participated in the discussion on behalf of the HARMONY Consortium: HARMONY Toulouse 2022
March 2022: HARMONY was presented at the H2020RTR21 Conference (the 5th European conference on results from road transport research in H2020 projects) in Brussels, Belgium. Lampros Yfantis, Scientific Researcher, Aimsun presented ¨HARMONY: Agent-based simulation of emerging mobility systems¨.
January 2022: HARMONY was presented at the TRB Annual Meeting in Washington, D.C., the United States on 10th January  2022. The coordinator Maria Kamargianni from UCL MaasLab presented the paper COVID-19 Impacts on Transport Policy Priorities: Barriers and Opportunities for Sustainable Urban Mobility Planning.
December 2021: HARMONY was presented at the first CIVINET CYPRUS-GREECE Conference on 10th December 2021. The presentation "The HARMONY Model Suite" by Mobyx showed an initial prototype of the project's main result.  
December 2021: HARMONY was presented at ITS Hellas Conference 2021. The presentation "Urban Air Mobility systems for urgent medical deliveries: A co-creation experience in the city of Trikala" by E-Trikala focused on the drone demonstration in Trikala, Greece. 
December 2021: UCL presented HARMONY during POLIS Parallel Session 1C "The vertical dimension" with a focus on urban air mobility, and on the co-creation experience in Trikala and GZM. 
November 2021: HARMONY was presented at the Unmanned Cargo Air Conference by Vicent Pastor from ENIDE. His presentation "Autonomous Vehicles and Unmanned Air Vehicles demonstrations for a new mobility era: the HARMONY initiative" focused on the project AVs and drone demonstrations, like the one in Trikala. 
October 2021: HARMONY's second cross-metropolitan workshop at CIVITAS Forum 2021 was led by the coordinator Maria Kamargianni from UCL MaaSLab. The main goal of the workshop was to exchange the experiences of the six HARMONY metropolitan areas based on the initial results of surveys, co-creation activities, and simulations of different components of the Model Suite.
October 2021: E-Trikala presented HARMONY's demonstration of drones delivering medicines to citizens at Major Cities of Europe (MCE) on 14th October 2021.
October 2021: HARMONY was presented at the European Union Sustainable Energy Week (EUSEW) 2021 by the coordinator Maria Kamargianni from UCL MaasLab on 11th October 2021. Her presentation "HARMONY" gave an overview of the objectives and expected outcomes of the project.
October 2021: Significance presented HARMONY's Tactical Freight Simulator (TFS) at the Modelling World Conference 2021 on 6th October 2021 in Birmingham, UK.
September 2021: HARMONY strategic freight simulator was presented at ETC 2021. The presentation "E-commerce in strategic freight models: an implementation in the province of the Zuid-Holland" was led by Sebastiaan Thoen from Significance.
September 2021: During ICTR 2021, HARMONY organised workshop VI: "Disruptive Technologies in Transport in 2021: From the pandemic to the new mobility era". Find the presentations on demonstrations, Model Suite, land use transport interaction model, tactical passenger simulator, tactical freight simulator, operational simulator, and data collection techniques.  
June 2021: UCL participated in the International Conference on Transport and Health to present HARMONY's poster: "How Transport and Urban Planning Priorities have changed during the Covid-19 pandemic".
June 2021: The HARMONY Model Suite was presented to MT-ITS. The presentation "A Software-Agnostic Agent-based Platform for Modelling Emerging Mobility Systems " was led by Manos Chaniotakis by UCL.
June 2021: E-Trikala presented the HARMONY drone demonstration in Trikala, Greece at the 8th International Physical Internet Conference on 16th June 2021.
May 2021: HARMONY's Model Suite was presented in the Next Generation Mobility event, the presentation was led by Andrea Marella from Torino Urban lab on "The HARMONY Model Suite: a new model for a new Mobility era"
May 2021: UCL participated in the International Transport Forum to present HARMONY's paper: "barriers and opportunities in sustainable urban mobility planning in response to the Covid-19 pandemic."
April 2021: HARMONY was presented at the Commercial Micro Mobility Conference: Middle East. The presentation guided by Vicent Pastor focused on the HARMONY spatial and multimodal transport planning tools.
March 2021: HARMONY was presented at the first UCL MaaSLab guest lecture by Michiel be Bok from TU Delft and Significance. His presentation focused on the application of the HARMONY freight simulator in Rotterdam. 
March 2021: HARMONY was presented during the webinar "Planning multimodal mobility in cities and regions: HARMONY Model Suite" jointly organised by ERCI and Railgrup. Manos Chaniotakis (UCL, MaaSLab) presented the HARMONY Model Suite supporting a new generation of urban and transport planners, especially during this time of COVID-19, as the HARMONY survey highlighted (Christina Georgouli, UCL MaaS Lab). The role of SMEs (Vicent Pastor, ENIDE) and their cooperation and networking with local authorities (Annarita Leserri, ENIDE) are keys to this end.  
December 2020: HARMONY organised the first stakeholder engagement workshop "Mobility as a Service" in Turin on 17th December 2020. The workshop activities included a presentation by Urban Lab on MaaS and a presentation by TRT on the HARMONY case study in Turin. 
December 2020: HARMONY organised the virtual workshop "Flying taxis? Drones as a component of modern urban mobility" with Metropolia GZM and UCL MaaS Lab on 15th December 2020. The co-creation lab activities included a presentation from UCL on Urban Air Mobility and a presentation from GZM on its upcoming SUMP.
December 2020: HARMONY organised its first webinar "Managing the unexpected: SUMPs and new mobility services during COVID-19" to present the project's initial findings and to explore whether new mobility stakeholders' requirements have arisen, especially due to the ongoing COVID-19 pandemic. Have a look at the presentations in Session 1

and

Session 2 of the webinar.
October 2020 – HARMONY was presented during the CIVITAS ELEVATE Evaluation Coordination Group meeting on 22nd October 2020 by Tariq van Rooijen from TNO. His presentation focused on HARMONY evaluation activities.
October 2020 – HARMONY participated in the Urban Mobility Days 2020 (UMD 2020) with the session "Challenges and opportunities for Urban Air Mobility". The coordinator Maria Kamargianni from UCL presented the project drone demonstrations in three metropolitan areas.
September 2020 – HARMONY was presented during European Transport Conference (ECT) 2020 on 9th September 2020. Michiel de Bok and Sebastiaan Thoen from Significance; Lori Tavasszy and Ioanna Kourounioti from TU Delft presented the HARMONY tactical freight simulator, whereas Francesca Fermi from TRT focused on HARMONY Model Suite.
May 2020 – HARMONY was presented during CIVITAS ELEVATE Evaluation Webinar on 8th May 2020 by Amalia Polydoropoulou and Ioannis Tsouros from the University of the Aegean, Tariq van Rooijen and Eleni Charoniti from TNO. Their presentation focused on the HARMONY evaluation approach in the six metropolitan areas.
March 2020 – HARMONY was presented at Go Mobility 2020 by David Quesada from ENIDE in Irun, Spain on 11th March 2020. His presentation "Harmony" gave an overview of the objectives and expected outcomes of the project.
November 2019 – HARMONY's first cross-metropolitan workshop focused on stakeholder requirements. Find here the presentations given by the partners during this interesting day in Rotterdam, NL.
October 2019 – HARMONY was presented at CIVITAS 2019 by Francesc Rosinés from ENIDE on 3rd October 2019. His presentation "Holistic approach for providing Spatial & Transport Planning Tools and Evidence to metropolitan and regional authorities to lead a sustainable transition to a new Mobility Era" provided an overview of the objectives and expected outcomes of the project.
September 2019 – HARMONY was presented at Thessaloniki International Fair by Nellie Tzivelou from OASA. Her presentation "Holistic Approach for Providing Spatial & Transport Planning Tools and Evidence to Metropolitan and Regional Authorities to Lead a Sustainable Transition to a New Mobility Era" focused on the HARMONY pilot in Athens.
June 2019 – HARMONY was presented at SIL Barcelona by Annarita Leserri from ENIDE on 27th June 2019. Her presentation "HARMONY" gave an overview of the objectives and expected outcomes of the project. Conference