This metropolitan area is situated in Poland's industrial heartland, on the Baltic Adriatic TEN-T corridor. Katowice is the largest city in the agglomeration. Understanding the role that transport innovations could play is crucial to their optimal implementation.
Harmony in Upper Silesian-Zaglebie
In GZM, HARMONY will:
Engage with stakeholders and citizens to understand their spatial and transport needs;
Transfer results from the model suite application to update the SUMP, plan the metropolitan-wide transport, and introduce new forms of mobility.
The main objective of the HARMONY GZM co-creation lab is to a have citizen-driven approach to the process of SUMP creation, with a focus on the social acceptance of Urban Air Mobility use cases. Next to it, within GZM co-creation lab, the opportunities for transport modelling software for the public transport network planning are being investigated.
In line with this, expected results from the co-creation labs are:

Create SUMP reflects the needs of citizens in terms of the problems and challenges addressed and solutions proposed;
There is a clear picture of the mobility patterns within and between different districts of the GZM agglomeration (urban, rural, intercity);
Knowledge about transport modelling software and its potential application for GZM is produced;
Transport modelling software is tested with input data from GZM and concrete user experience results are available;
HARMONY MS is tested by GZM.
To engage and work with stakeholders and citizens to investigate their requirements in terms of spatial and transport planning and new mobility services (WP1, WP9);
To transfer results from the HARMONY MS application to assist the authority to plan for the metropolitan-wide transport, introduce new forms of mobility and update their SUMP (WP8).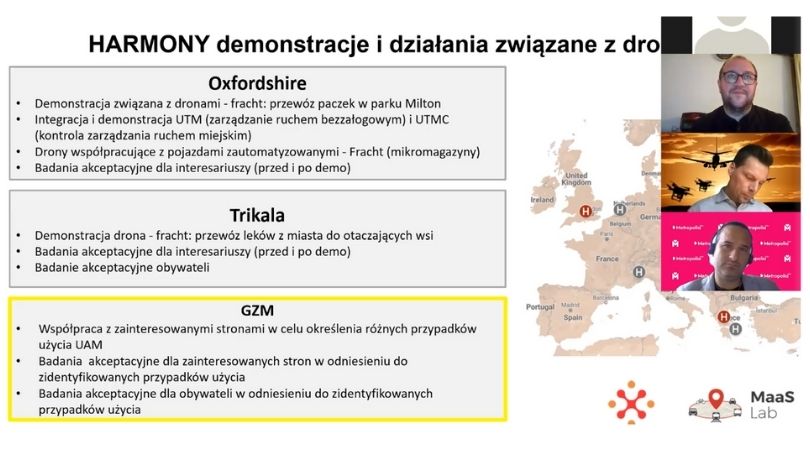 HARMONY organised a virtual workshop with Metropolia GZM and UCL Maas Lab on 15th December 2020. The main goals of the workshop were to
Bring together stakeholders in the Urban Air Mobility sector to update them on the region's efforts to promote the safe implementation of drones.
Capture stakeholders ideas regarding drones in use cases. Understand who are the involved actors, what are the preconditions and the implementation flow, identify additional requirements outside the functional requirements the system is expected to perform.
The co-creation lab activities included a presentation from UCL on Urban Air Mobility and a presentation from GZM on its upcoming SUMP. Following the first workshop, GZM will develop and conduct surveys to gather information on citizens and other stakeholders attitudes towards the use cases developed. This will be of vital importance to integrate Urban Air Mobility to the work being done by the authority in developing their Sustainable Urban Mobility Plan.