Welcome to Harmony's Final Training and Conference!
BIG NEWS: February is a special month as our HARMONY H2020 project comes to an end. Indeed, it's been 4 years of dedicated work and we are eager to share our results with you! This special occasion is your chance to learn first-hand from worldwide experts how to tackle urban challenges and ensure a variety of sustainable transport solutions for the safer, healthier and more fluid passage of people and goods. Here´s what you need to know:
In the past decade, the topic of the low-carbon mobility era has been reaching the limelight. The pressure on governments to address the challenges urban environments face has rapidly increased all throughout the globe. Congestion, noise/air pollution, climate change, road accidents, and unsightly on-street parking are a few of the many issues about which societies have raised awareness. Moreover, the lately evidenced rapid innovation cycles and the changing urban conditions, as well as unexpected events (such as the COVID-19 pandemic) have resulted in an urgent need for disruptive solutions to improve citizens' well-being and achieve environmental targets. Solutions were demanded, and experts were addressed. 
Innovation, a re-think of public-private sector cooperation and how to engage citizens more directly in new mobility systems and services is essential. New mobility services and technologies represent a promising solution to meet the European Union's target to reach net-zero emissions by 2050. HARMONY's vision is to enable metropolitan area authorities to lead a sustainable transition to a low-carbon new mobility era, by developing a Model Suite (MS) which harmonises spatial and multimodal transport planning models allowing HARMONY MS users to comprehensively model the dynamicity of the changing transport sector and spatial organisation in urban and regional areas.
Join us to learn more about low-carbon mobility HARMONY solutions:
 2-day Workshop – Final Training for student-modellers and a consultant-modeller: HARMONY MS training course
1-day Final Conference for anyone interested in sustainable urban mobility: The Next Generation of Transport Planning Tools for Sustainable Urban Mobility
Harmony MS training course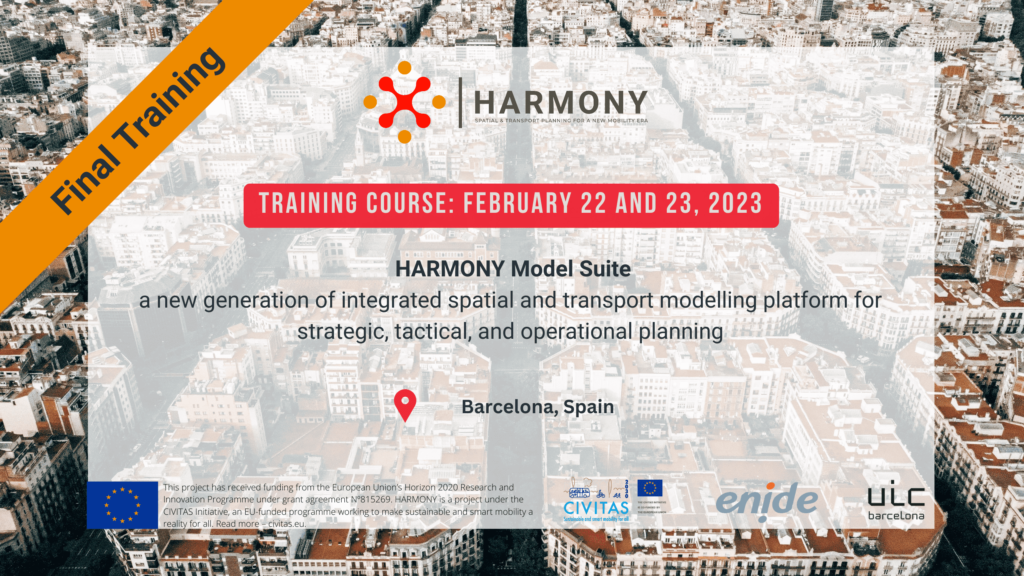 UIC Barcelona | Campus Iradier (Aula Alpha 303- Alpha building)
C/Immaculada 22, 08017 Barcelona
LEARN FROM EXPERTS – 21 partners from 9 countries bring you HARMONY, the state-of-the-art:
-> in regional spatial and transport planning
-> in modelling methods
-> in the techniques of integrating traditional and new mobility services
-> in the demonstration of HARMONY Model Suite (HARMONY MS)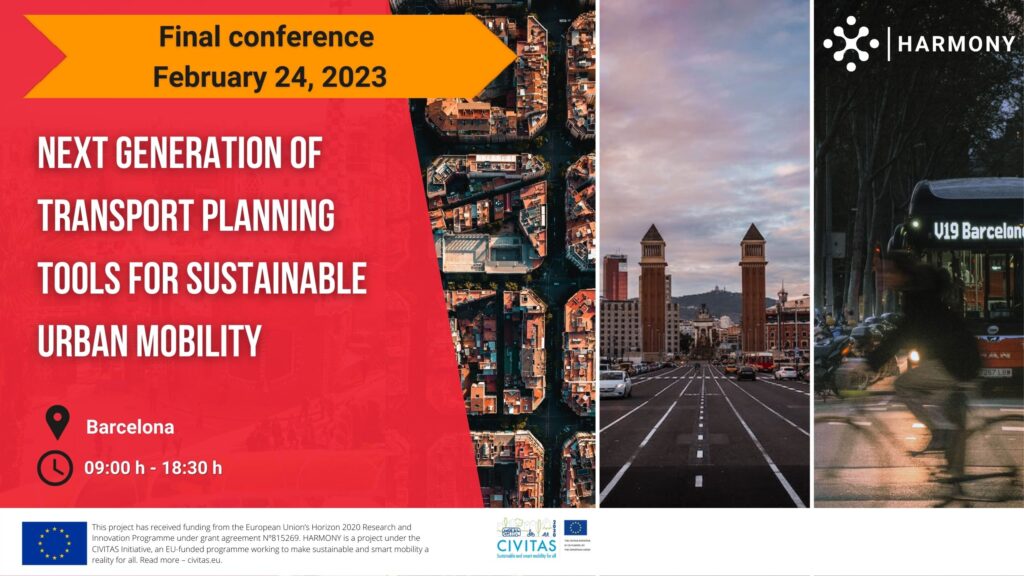 UAB Casa Convalescència (sala: Aula Magna)
C/ Sant Antoni Maria Claret 171
08041 Barcelona
Don´t miss out on our worldwide keynote speakers!
Our final conference offers a  panel of experts, each one focusing on a different aspect: innovation proposed by industries for challenges faced by urban authorities, in spatial and transport planning. Finally, a cross-session discussion to wrap up the event and shed some light on future developments.
Make sure to stay for a drink: cocktail networking at the very end! We are looking forward to meeting you.
When you need to innovate, you need to collaborate! 
Cooperation is essential to advance sustainable mobility. HARMONY H2020 is a collaboration of 21 partners from 9 countries. Implementation took place in 5 countries, focusing on four pilot areas: Oxfordshire (UK), Rotterdam (NL), Turin (IT) and Athens (GR) where HARMONY MS was applied. Strong teamwork produced good results:
Bearing in mind that HARMONY's focus on metropolitan area authorities to lead a sustainable transition to a low-carbon new mobility era, the Model Suite represents a ground-breaking innovation for several reasons. Firstly, it embraces the real-life complexity of disruptive mobility services and technologies, including drones and autonomous vehicles. Secondly, the Model Suite is an integrated, software-agnostic, and multiscale model system. It can be combined with independent modelling and planning tools already in use in different metropolitan areas. It encompasses three different levels of modelling, namely the strategic, tactical, and operational ones. Thirdly, the Model Suite can deal with both passengers' mobility and freight transport needs, both in urban and regional environments, Finally, the results stemming from the employment of the Model Suite can be transferred from trailblazing to aspiring metropolitan areas to update SUMPs across Europe.
Follow us on Social media