Big news: Harmony H2020 celebrates the end of the project with a final conference on Sustainable Urban Mobility in Barcelona, Spain under the theme: ¨Next Generation of Transport Planning Tools¨.
Think disruptive! Join us for: 
A special key-note speaker on the future of mobility and where Europe stands

5 panel discussions on hot issues in Sustainable Urban Mobility: Data-based decisions for transport planning,

Transition to sustainable mobility, etc.

HARMONY Experts sharing project´s disruptive solutions to improve citizens' well-being and achieve environmental targets. We focused on six cities and metropolitan areas covering a broad range of challenges and possibilities: Athens, Oxfordshire, Rotterdam, Trikala, Turin, and Upper Silesian Zaglebie.
The number of seats is limited so make sure to book your spot! See you on the 24th of February 2023.
What to Expect?
The Conference is organized by experts in business technological innovation in sustainable mobility – Enide, in a collaboration with the HARMONY H2020 consortium: University College of London, Airbus, Aimsun, Delft University of Technology, Oxfordshire City Council, TRT Trasporti e Territorio, City of Rotterdam, and others. We bring to you the international community of urban transport practitioners, and urban planners, policymakers, local authorities, academics, NGOs from across the globe who have come together to debate key issues, highlight developments in mobility planning and exchange ideas and experience in sustainable urban mobility examining the challenges and solutions at hand.
Find out how Harmony´s innovative tools tackle greenhouse gas emissions and energy consumption, the growth of vehicle reliance, congestion, inefficiencies, and poor regional connectivity of public transport! 
The conference seeks to identify and offer solutions to the most pressing transportation problems. Harmony is all about collaborative work and thus we are pleased to give our audience an opportunity to ask questions and challenge the expèrt of panellists! 
Cocktail networking at the very end! Stay and celebrate with the Harmony H2020 community. We are looking forward to meeting you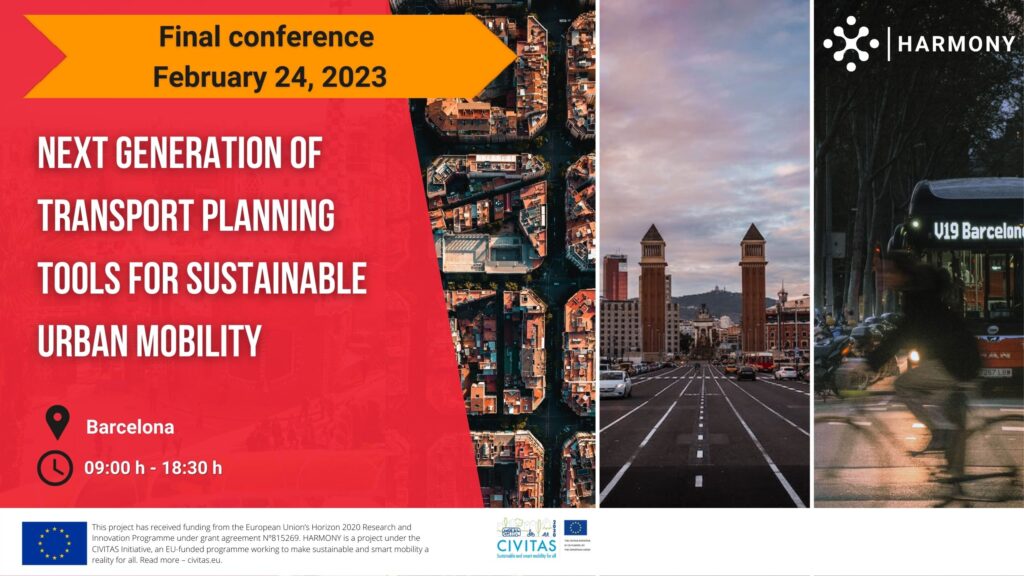 UAB Casa Convalescència (sala: Aula Magna)
C/ Sant Antoni Maria Claret 171
08041 Barcelona
8.30 CET - 17.15 CET
8.30 h - 9.00 h​: Re

gister

 

​

9.00 h - 9.30 h:​ Welcome: HARMONY vision, scope and achievements+ Exploitable Results

​

9.30 h - 10.00​ h:

Keynote speaker: Future of mobility and where Europe stands

​

10.00 h - 10.40 h:​ PANEL - SUMP Challenges: the latest and most critical mobility challenges in our cities and related planning processes

​

10.40 h - 11.00 ​h: Sustainable Urban Mobility Planning recommendations and roadmaps

​

11.00 h - 11.15 h:​ A poster session and coffee break

​

11.15 h - 12.00 h:​ HARMONY MS: The next generation of planning tools 

​

12.00 h - 12.30​ h: PANEL - Data-based decisions for transport planning + data standardisation

​

12.30 h -13.00​ h: PITCH: Data app as a solution by MOBY
13.00 h - 13.45 h: A poster session and lunch break
13.45 h - 14.30​ h: PANEL - The cities: demonstrations of AV and drones (case studies: Trikala, Rotterdam, Oxfordshire) - challenges, experience and required policies

​

14.30 h - 15.15 h: PANEL -  Transition to sustainable mobility the role of CCAM and UAVs
15.15 h - 16:00 h:​ PANEL- How do cities see the implementation of new mobility technologies in city and transport planning? 
16.00 h – 17.15​ h: Poster Session: Networking & cocktail party
Who is the conference for?
If you are part of the metropolitan and city authorities, industry professionals, academics/researchers, students, relevant NGOs, traffic modellers, urban planners, etc. then this conference is for you!
Why attend?
This is a unique opportunity to broader your perspective on the low-carbon mobility era and learn about Harmony´s disruptive technology! We shed some light on future developments tackling issues such as congestion, noise/air pollution, climate change, road accidents, and unsightly on-street parking. 
Who will I meet?
What better way to wrap up the event than with cocktail networking! Our team of experts from all across the continents will be at your disposal for any questions you may have. You can also just simply approach us to say hi! 
Follow us on Social media