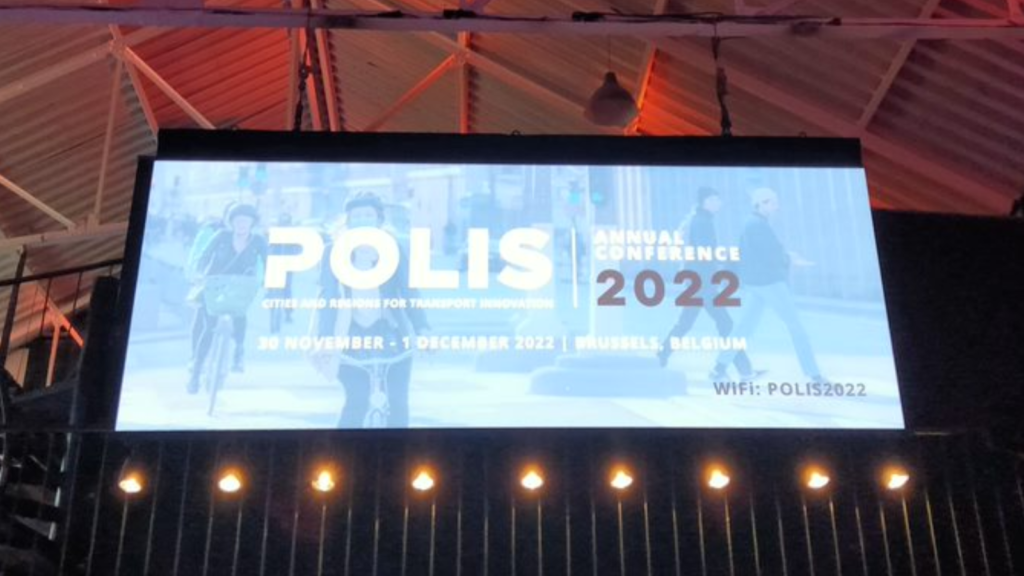 Each year, the POLIS Conference provides an opportunity for cities and regions to showcase their transport achievements to a large audience of mobility experts, practitioners and decision-makers. The venue (The Egg Brussels) ran at full capacity with more than 800 participants who could attend over 40 sessions about relevant topics suggested by the members of our powerful network.
Across two days, the Annual POLIS Conference 2022 offered a mix of 32 parallel sessions, 8 deep-dive panels, and 2 plenaries focused on some of the hottest topics that are high on the mobility agenda of cities and regions. Participants had plenty of opportunities to discuss and explore the critical challenges affecting urban mobility with some of the world's most innovative thinkers.
From SUMP innovation for climate mitigation to hands-on safety solutions, and from the steps ahead towards a Just Transition to unlocking the value of data, we picked practices, innovations, plans and actions marked by relevance, originality and, most importantly, an action-oriented approach.
The role of HARMONY H2020 at POLIS
Harmony's 3rd Cross-Metropolitan Workshop took place at the Harmony booth at the POLIS annual conference in Brussels on the 30th of November from 13.35CET – 14.25CET. 
The workshop was organized by one of the consortium partners: ENIDE Solutions and it was moderated by Vicent Pastor (Head Of Corporate Development / Chief Innovation Officer at ENIDE) and it was open to all the attendees of the POLIS conference: metropolitan and city authorities, industry professionals, academics/researchers, students, relevant NGOs, etc.
Harmony's 3rd cross-metropolitan workshop was aimed at:
Informing the audience on the HARMONY project and its outcomes
Exploring the applicability of the current HARMONY MS to matters concerning spatial planning in other areas (=regions/cities) 
Identifying potential improvements and extensions
HARMONY´s 3rd cross-metropolitan workshop agenda:
13.35h – 13.40h (5 min):  HARMONY overview by Vicent Pastor (Head Of Corporate Development / Chief Innovation Officer at ENIDE)

13.40h -13.50h (

10 min): 

Use 

Case -the 

Rotterdam, 

eTrikala

 

experience in 

Harmony 

by 

Jos Streng (Transport Planner, Urban Development City of Rotterdam), Elena Patatouka (Senior Project Manager at e-trikala)
13.50h – 14.00h (10 min): The results of the stakeholder engagement activities in HARMONY by 

TARIQ van 

Rooijen

 (

Senior Project Manager 

TNO)

14.00h – 14.15h (15 min): 

Policy recommendations for SUMPs

 by 

Vanessa Holve (Policy and Project Advisor at TRT TRASPORTI E TERRITORIO SRL)
14.15h – 14.25h (10 min): MOBY data collection with the results 

obtained in TURIN

 by Vanessa Holve (Policy and Project Advisor at TRT TRASPORTI E TERRITORIO SRL)
GALLERY - Harmony´s 3rd Cross-Metropolitan Workshop