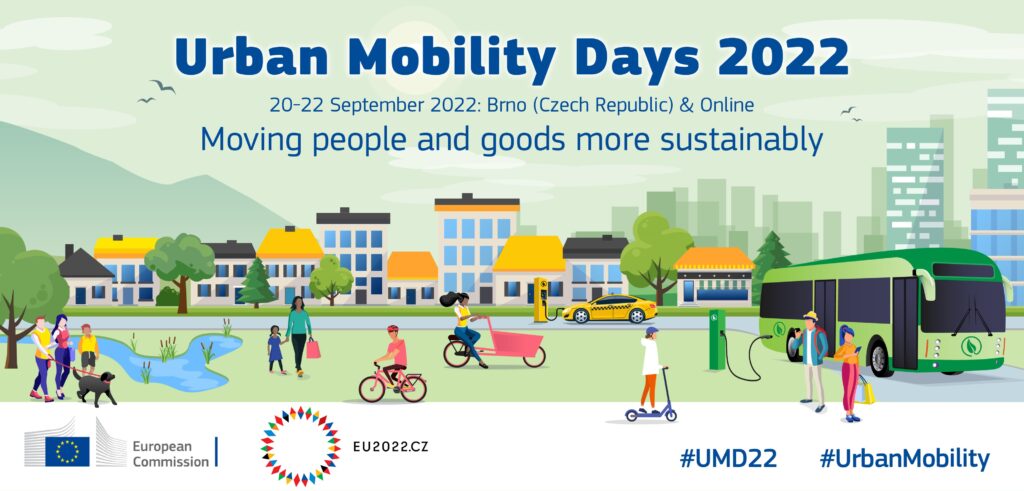 We´ve had a busy week at  Urban Mobility Days 2022 in the city of Brno, Czech Republic presenting Harmony-H2020 as part of the CIVITAS Initiative! 
This year's theme was 'Moving people and goods more sustainably´ which allowed us to dive deeper into the topics of sustainable urban mobility, examining the latest challenges and solutions. Urban Mobility Days provides a unique forum for policymakers, local authorities, academics, NGOs, urban transport practitioners, and urban planners to connect and discuss the way forward for a sustainable, innovative, and equitable future for Europe's urban mobility. 
Cities face critical challenges on the path to sustainable mobility, yet they also hold the key to action. More than 70% of Europeans live in cities, and urban areas account for around 23% of EU greenhouse gas emissions from transport. At the same time, European cities are home to some of the boldest and most innovative solutions for passenger and freight transit.
Whay is Harmony participating?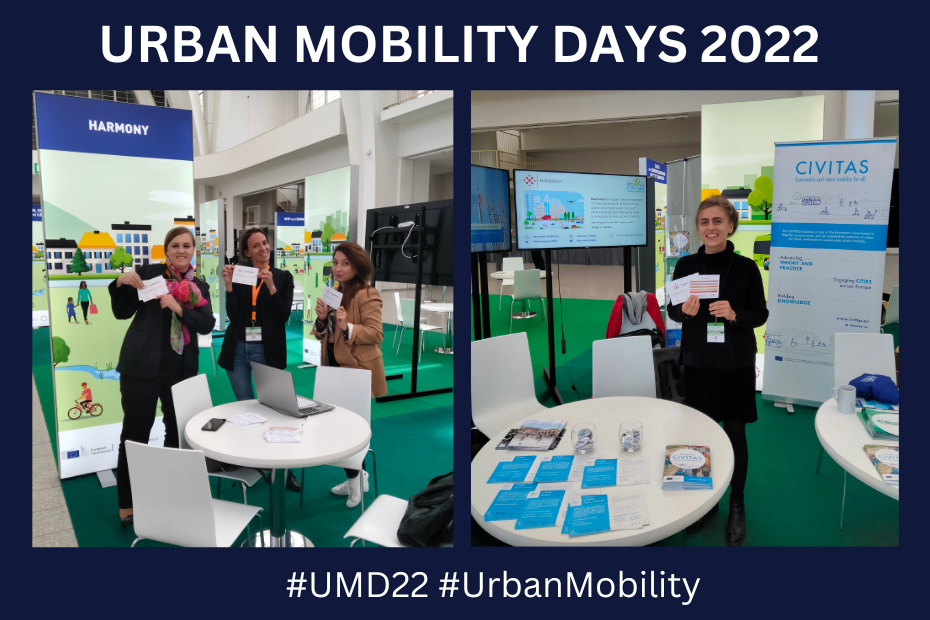 Urban Mobility Days 2022 which took place in the Brno Exhibition Centre, was a combination of the CIVITAS Forum Conference and the European Conference on Sustainable Urban Mobility Plans.
As part of the CIVITAS initiative, HARMONY H2020 was invited to take part in:
1 min pitch which was given by Vesna Boskovic the Communication and Dissemination Manager at ENIDE, one of the project partners (Holistic Approach for Providing Spatial & Transport Planning Tools and Evidence to Metropolitan and Regional Authorities to Lead a Sustainable Transition to a New Mobility Era),
the CIVITAS Coordination Meeting on 22 September 2022, from 14:00-16:00. Held exclusively on-site, at the Urban Mobility Days 2022 venue (Brno Exhibition Centre) its main aim was to provide the Project Coordinators, Evaluation and Dissemination Managers of the ongoing CIVITAS projects a possibility to exchange on common issues and to identify synergies and opportunities for cross-project cooperation,
promoting the Harmony project at our very own stand within the CIVITAS area, where we had a chance to hand out brochures and offer first-hand information.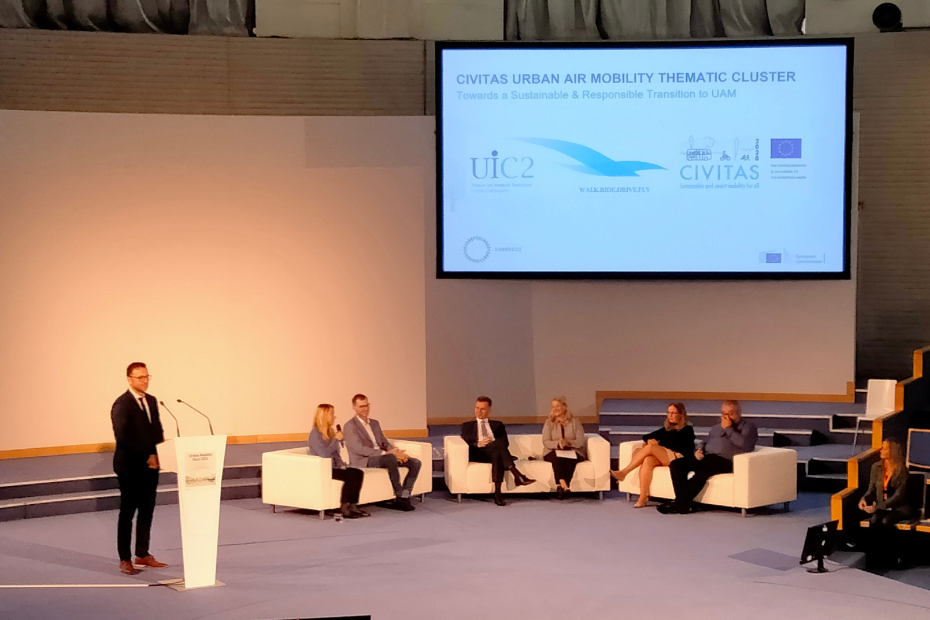 For the full program at Urban Mobility Days please take a look 
here:
MONDAY, September 19, 2022 – the EIT side event: INNOVEIT BRNO: The Future of Sustainable Urban Mobility (part 1)
TUESDAY, September 20, 2022:
The "Mobility Powered by Youth" initiative program includes an opening plenary with representatives from the European Commission and the CIVITAS Educational Network – keynote speakers, speeches and panel discussion.
EIT side event – INNOVEIT BRNO: The Future of Sustainable Urban Mobility (part 2) 
GRAND OPENING – The Grand Opening features Adina Vălean, European Commissioner for Transport, Václav Bernard, Vice-Minister of Transport of the Czech Republic, Petr Kratochvil, Brno City Councilor for Transport, and Lesya Loyko, European Mobility Week National Coordinator for Ukraine.Master of Ceremony, Karen Vancluysen, Secretary General, POLIS Network
PLENARY SESSION 1: 'Active modes and public transport first' – The core of EU urban mobility and the way forward to reduce oil dependency
10 Pitches (1) among which is HARMONY – (Holistic Approach for Providing Spatial & Transport Planning Tools and Evidence to Metropolitan and Regional Authorities to Lead a Sustainable Transition to a New Mobility Era)
PLENARY SESSION 2: 'TEN-T Urban Nodes' – A reinforced approach to TEN-T Urban Nod
CIVITAS Awards Ceremony
Gala Dinner & CIVITAS 20th Anniversary
WEDNESDAY, September 21, 2022:
PLENARY SESSION 3: 'Funding and financing' – Funding and financing climate-neutral and energy-efficient urban mobility
1A – Session on SUMP- Recommendation on National SUMP Support Programmes (NSSPs) and updated SUMP concept
1B – Session on climate-neutral cities- Towards climate-neutral cities: resilient, environmentally friendly and energy-efficient urban transport
2A – Session on SUMI (Indicators)-Monitoring Progress: Sustainable Urban Mobility Indicators (SUMI)
2B – Session on RePowerE RePowerEU: the power of behavioural change
2C – Session 'Outside the EU' – Shall we discuss sustainable urban mobility: what happens outside the EU?
3A – Session on CIVITAS- Towards CIVITAS 2030
3B – Session on UVARs (access regulations) – Urban Vehicle Access Regulations (UVARs) and parking management
3C – Session on the safety of active road users- How to ensure the safety of active road users (pedestrians, cyclists, users of personal mobility devices)
4A – Session on integrated urban planning – Integrating urban planning: lessons learned from SUMP and SECAP harmonisation experiences
4B – Session on zero-emission urban logistics – Zero-emission urban logistics
4C – Session on smart urban mobility – Smart urban mobility
THURSDAY, September 21, 2022:
PLENARY SESSION 4: Implementing Urban Air Mobility in Cities
10 Pitches (2)
CLOSING PLENARY – The future of urban mobility as seen by the younger generation