Mobyx presented the HARMONY Model Suite at the first CIVINET Greece-Cyprus Forum on 10th December 2021 in Athens, Greece.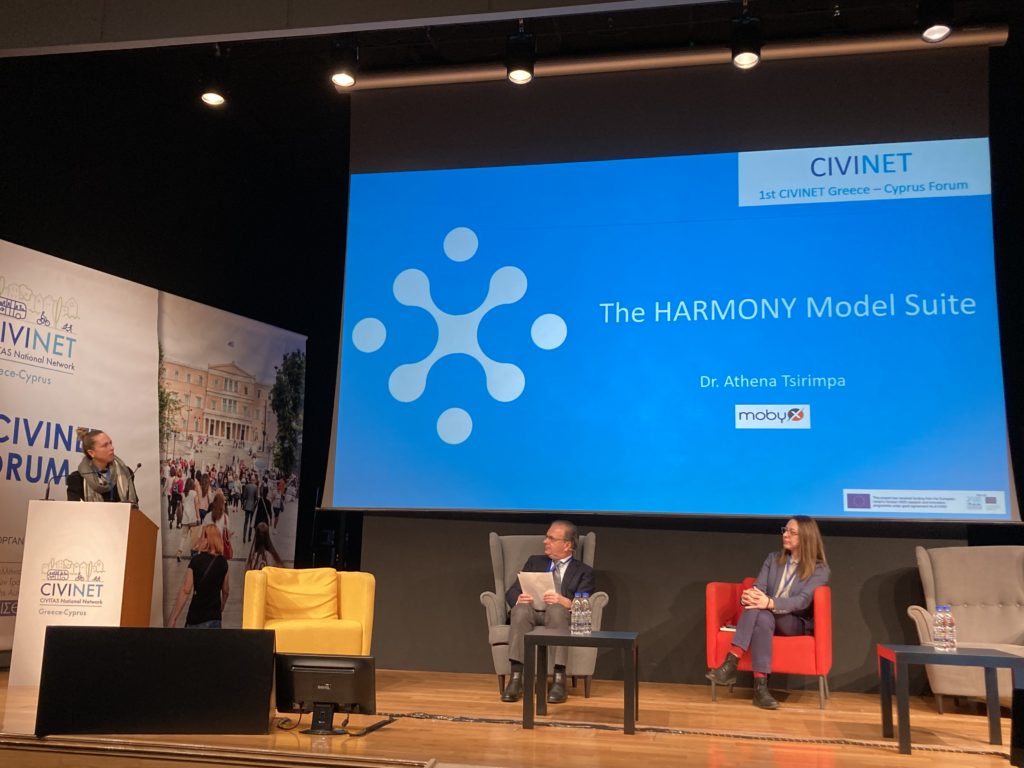 What is CIVINET Greece-Cyprus Forum?
CIVINET CY-EL is the Greek-speaking local network of CIVITAS, which focuses on the promotion of Sustainable Mobility in Greece and Cyprus. It is also national multiplier of ELTIS and a key partner of the Urban Transports Community of Interreg MED.
The 1st Conference of CIVINET Greece – Cyprus Network was titled "Greek Society towards the Challenge of Sustainable Mobility on the horizon of 2030" and was held on 9th and 10th December 2021 in OTE Academy premises in Athens, Greece. 
The main goals of the Conference was to inform the public and to raise awareness about urban transportation and sustainable transport, as well as to underline and promote environmentally friendly, socially just, "smart" and efficient transportation modes.
Why did HARMONY participate?
HARMONY participated in the second "international" day of the Forum with a scientific presentation by Mobyx . After a general introduction of the project and of the overall architecture of the HARMONY  Model Suite, Athena Tsirimpa from Mobyx showcased a first prototype of the project main result.
The HARMONY presentation came in a wider session of CIVITAS projects, including  MEISTER, MOMENTUM, SUMP-PLUS, and City Changer Cargo Bike. 
Have a look at the presentation and keep following HARMONY on Twitter and LinkedIn to stay updated with its next developments and events.