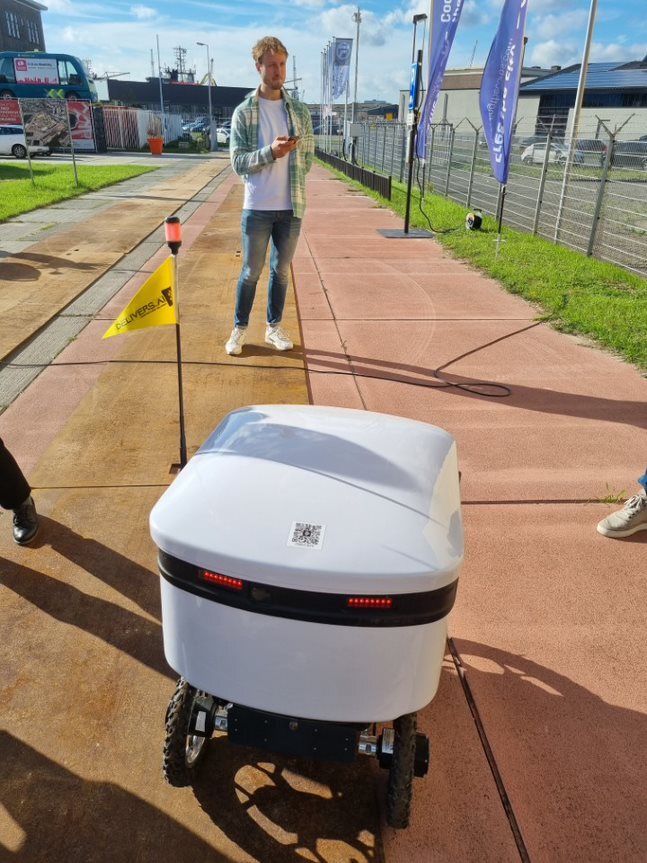 In October 2022 Harmony team completed the demo of the self-driving delivery robot Rosie which took place at the Future Mobility Park in Rotterdam (West) and it was delivered by part of the Harmony Consortium Team: City of Rotterdam, Future Mobility Network, Future Mobility Park, and Dutch Automated Mobility.
Rosy 2.0 is an autonomous vehicle which can deliver food and packages, on the field, and on campuses to students was tested in multiple environments, among other vehicles, intelligent traffic lights, mopeds, and pedestrians. The objective was to understand how robot Rosie reacts to different environments and other moving and non-moving obstacles, within different traffic situations and on a public road. 
Harmony testing showed that robot Rosie can contribute to the city logistics, it helps decide which road to take. It proved that Rosie can drive in different weather conditions, on different roads from hills, to flat roads, curvy, crossroads, roundabouts etc.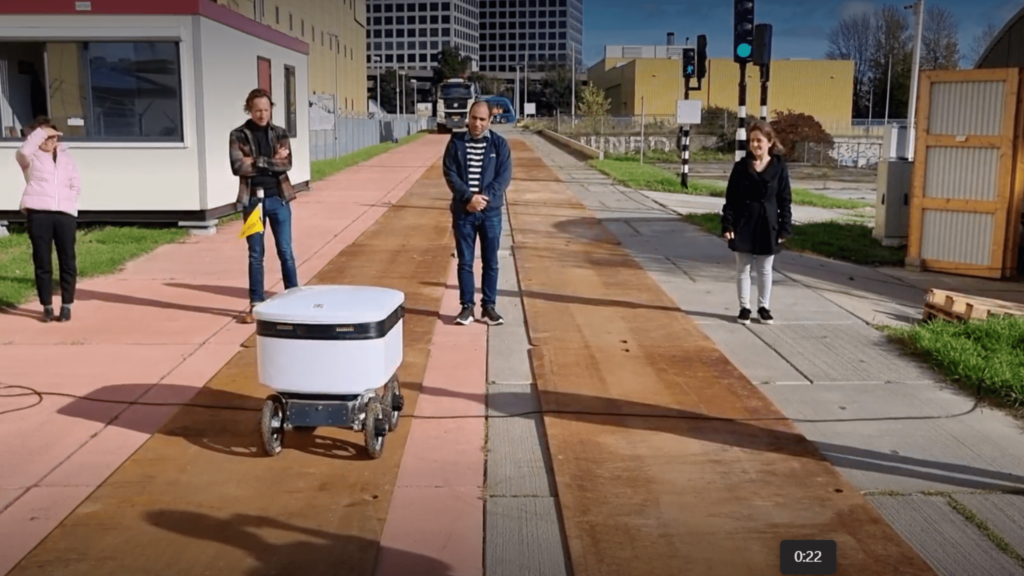 HARMONY team investigated the answers to the following learning questions:
How can automation with Rosie 2.0 positively contribute to the Rotterdam Mobility Approach
(RMA) and Zero Emission Mobility (NEM) in terms of city logistics?
What can we expect from these new self-driving robots and the associated services as a city and
what will our role as a municipality become (as a road asset manager and from other roles)?
Can self-driving delivery robots provide insights into future traffic models for city logistics to
be adequately represented in (freight) traffic simulation tools?
What is the energy consumption of Rosie 2.0 compared to a delivery van?
The objective of the demo Rosie in the Future Mobility Park was to test multiple environments with other road users and vehicles and Intelligent Traffic Lights (ITL), but also with mopeds and pedestrians. We investigated how the robot reacted. Furthermore, we investigate how Rosie can contribute to Harmony simulator.
Why did Harmony opt for Rosie instead of AV?
Due to covid circumstances, it was not possible to have the van arrive in the Netherlands on time. Due to the fast action and short time frame, it was difficult to find a replacement demonstrator. Fortunately, we were able to find a replacement Harmony demonstrator in Rosie's name. Self-driving robots are relatively new. It has been extremely valuable to test this within the Harmony framework. The results show that these robots certainly have a future. Harmony has been able to contribute to the future of self-driving robots.
What are the Benefits Rosy can bring to the community?
As an autonomous vehicle, It can replace the shortage of drivers, and personnel worldwide. On another side, new jobs are created within the control room, which monitors the robot. It is an additional service that is provided.